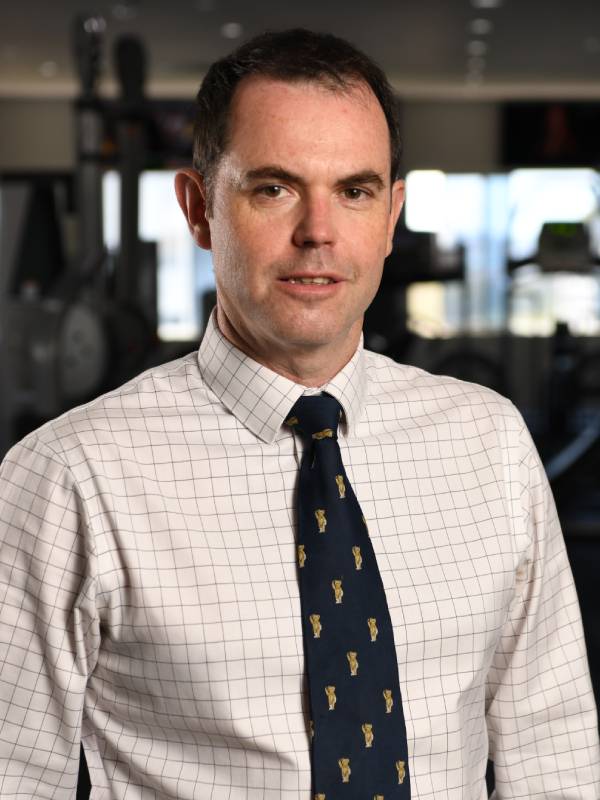 Dr Damien McKay
MB BS BAppSc (Physiotherapy), Dip Paeds, M Sp Med, FRACP
Consultant Paediatrician – Paediatric Rheumatology & Paediatric Sports Medicine
Fellowship of the Royal Australasian College of Physicians (FRACP)
Bachelor of Medicine and Surgery (University of Sydney)
Bachelor of Applied Science – Physiotherapy (University of Sydney)
Diploma of Paediatrics (Sydney Children's Hospital)
Masters of Sports Medicine (University of New South Wales)
Fellow – Royal Australasian College of Physicians
Associate Member – Australasian College of Sports and Exercise Physicians
Member – Australian Rheumatology Association
Member – Australian Paediatric Rheumatology Group
Damien McKay is a paediatrician specialising in paediatric and adolescent sport and exercise medicine and rheumatology. He cares for children and adolescents with a wide range of conditions from rheumatic diseases such as inflammatory arthritis, to recreational and elite young athletes with acute or chronic sports musculoskeletal injury, concussion, and exercise related problems.
Damien completed his medical studies at the University of Sydney in 2000, having previously completed a Bachelor of Applied Science in Physiotherapy, and worked in orthopaedic and sports physiotherapy practices in Australia and the United Kingdom, providing a strong clinical base to build his expertise in paediatric rheumatology and sports and exercise medicine
Damien subsequently developed a unique combination of expertise in paediatric rheumatology, following completion of specialist training in paediatric rheumatology at The Children's Hospital at Westmead, and Sydney Children's Hospital, Randwick, as well as expertise in paediatric sports and exercise medicine, following completion of a Masters in Sports Medicine and a Clinical Fellowship in Paediatric Sports Medicine at The Children's Hospital Institute of Sports Medicine.
Damien currently holds appointments with the Sydney Children's Hospital Network as a Staff Specialist in Paediatric Sports and Exercise Medicine with The Children's Hospital Institute of Sports Medicine, and as a Paediatric Rheumatologist at Liverpool Hospital. Damien is the Head Doctor for the Sydney Swans Academy and a Medical Officer for the Cronulla Sharks Football Club where he focuses on their Elite Academy and Junior Development Squads.
Damien has been an invited speaker at professional conferences and for key sporting bodies including the International Olympic Committee. He has authored or co-authored numerous publications in peer reviewed journals with his research interests including fitness assessment and exercise prescription in children with chronic illness, concussive head injury in youth athletes, and factors influencing injury in adolescent athletes, an area for which was appointed as a Scientific Advisor to the International Olympic Committee.
Qualifications
Fellowship of the Royal Australasian College of Physicians (FRACP)
Bachelor of Medicine and Surgery (University of Sydney)
Bachelor of Applied Science – Physiotherapy (University of Sydney)
Diploma of Paediatrics (Sydney Children's Hospital)
Masters of Sports Medicine (University of New South Wales)
Professional Affiliations & Memberships
Fellow – Royal Australasian College of Physicians
Associate Member – Australasian College of Sports and Exercise Physicians
Member – Australian Rheumatology Association
Member – Australian Paediatric Rheumatology Group
Key Publications
Swain, M, Broderick C, Kamper S, McKay D and Maher C "The relationship between growth, maturation, and musculoskeletal conditions in adolescents: a systematic review" Br J Sports Med. 2018 In Press.
McKay D, Broderick C, Steinbeck K. The Adolescent Athlete: A Developmental Approach to Injury Risk. Pediatric Exercise Science. 2016 Oct 5:1-33.
de Silva V, Swain M, Broderick C, McKay D. Does high level youth sports participation increase the risk of femoroacetabular impingement? A review of the current literature. Paediatric Rheumatology Online J. 2016 Mar 11;14(1):16
Hulsegge G, Henschke N, McKay D, Chaitow J, West K, Broderick C, et al. Fundamental movement skills, physical fitness and physical activity among Australian children with juvenile idiopathic arthritis. Journal of Paediatric Child Health. 2015 51(4):425-32.
Henschke N., Harrison , McKay  D , Broderick C, Latimer J, Britt H, and Maher C. Musculoskeletal conditions in children and adolescents managed in Australian primary care. BMC Musculoskeletal Disorders, 2104 15(1), 164
Engebretsen L, Steffen K, Bahr R, Broderick C, Dvorak J , Janarv PM, Johnson A, Leglise M, Mamisch TC, McKay D, Micheli L, Schamasch P, Singh GD, Stafford DE, Steen H. The International Olympic Committee Consensus statement on age determination in high-level young athletes. Br J Sports Med. 2010 Jun;44(7):476-84.
Broderick C, McKay D. Reducing the risk of injury in young footballers. British Medical Journal. 2009 Mar 18;338:b1050
Key Invited Presentations
Invited Speaker: "Hypermobility, Sport, and Exercise" The Children's Hospital at Westmead Annual Paediatric Update, November 19 2015.
Invited Plenary Session Speaker "Paediatric Sports Injuries" Australian College of Nurse Practitioners Annual Conference, Sydney, Sep 3, 2014,
Invited Address: "Growth and Maturation – Implications for Junior Sport" Office of Sport Recreation and Communities Junior Sport Forum, NSW Institute of Sport – November 3rd, 2011
Invited Expert Address: "Changes in Injury Risk with Maturation – The Challenge of Protecting Athlete Safety". International Olympic Committee Consensus Meeting on age determination in the elite, adolescent athlete; Lausanne, Switzerland, December 3-4, 2009.
Opening Keynote Lecture: "Paediatric Sports Injuries". Sports Medicine Australia (NSW) Conference of Science and Medicine in Sport; Sydney, NSW, May 30, 2009.